LINKS CONSEIL : 3DTC's exhibitor it's your turn

France - Paris - Colmar :
3D-TRADE-CENTER End-Users are enjoyed to mix daily 3D offices with SKYPE visio-conference.

A successfull 3d immersive multi-sensorial experience :
Therefor, 3D-TRADE-CENTER End-Users improve on a daily business timeframe their own relationship performances.

Following pictures are destinated to relate an exchange between a consultant and the NEW3S'CEO Hervé HEULLY.
Ahead of any conference call, The LINKS CONSEIL consultant, Mr. GROS and Hervé HEULLY have updated on their own, without any help, their 3D space. All Rich-Medias are upgraded accordingly to the next conference call.

Dominique GROS has decided to improve his own picture. He has uploaded a new one. His video - a training method - has also been upgraded by himself.
His voice and private promotional messages have been modified by himself too.

3D Office picture : main door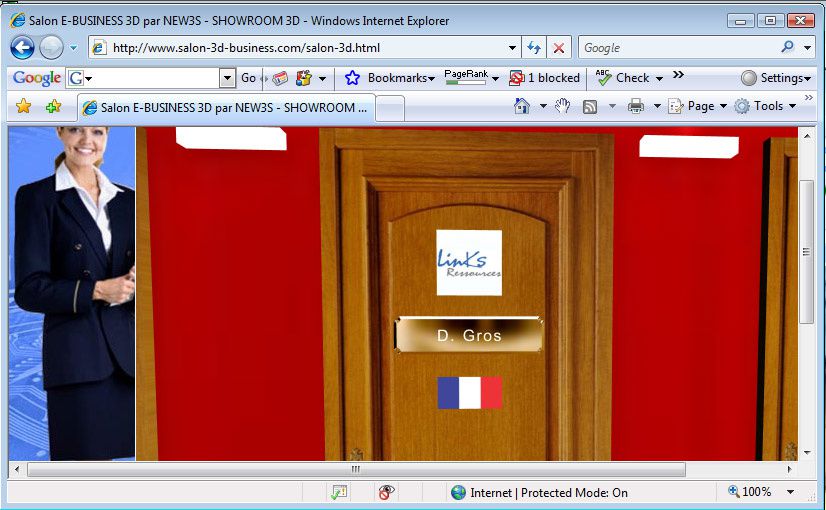 On his side, Mr. Herve HEULLY has choosen a brand new 3D geometry. He has choosen a new one 3D office among templates which have been provided to him.
As he wanted to demonstrate, his location in Paris, he has choosen the EIFFEL TOWER as outside view.
A few more pedagogical information has also been updated. The picture ID has also been upgraded. Visible from 3D Trade Center's Home Page. Also displayed with any mail, he sends.

3D Office picture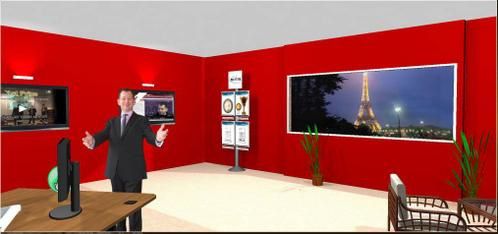 Once, both interlocutors have been satisfied of their own updates and upgrades, they have choosen to meet virtually.

They lauch their SKYPE application.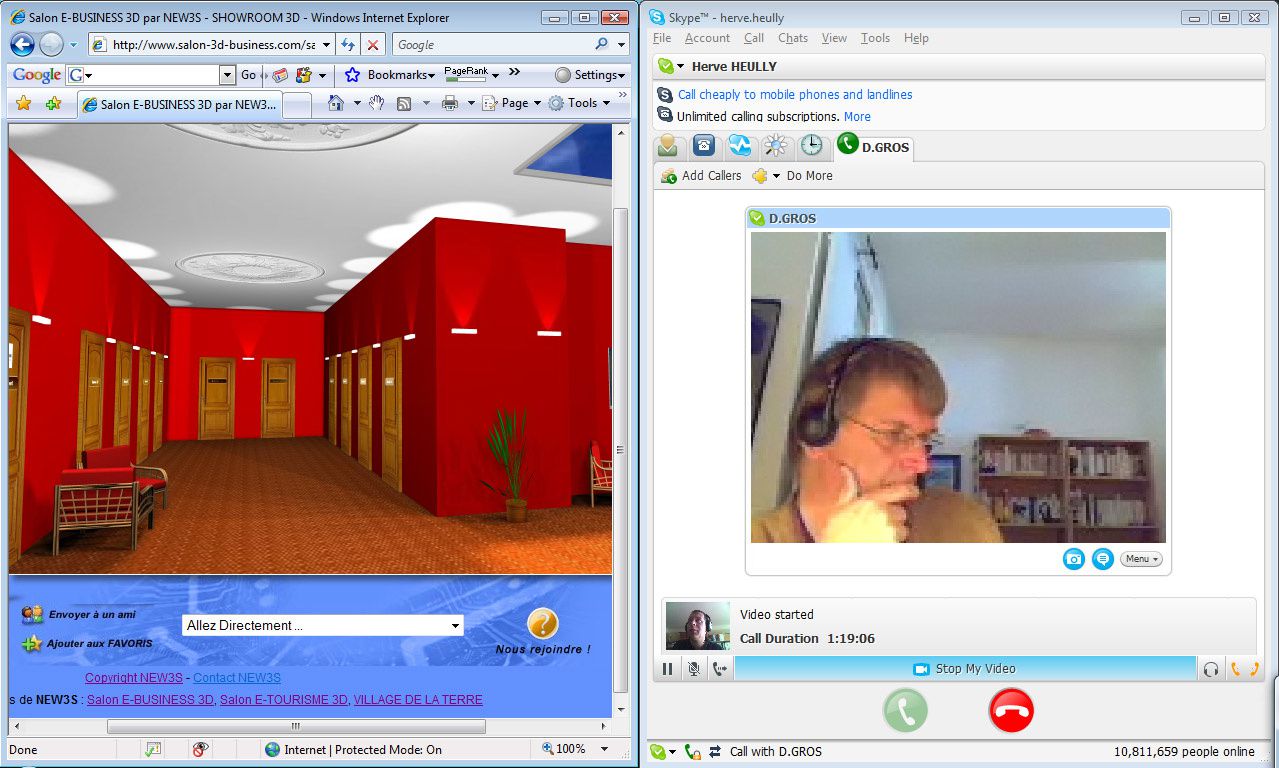 Meanwhile SKYPE video /conference call is on the way, Dominique GROS goes by walk to the Hervé HEULLY's 3D office.
Connexion is ON.
Hervé HEULLY sees simultaneously D. GROS's 3D office and his interlocutor on SKYPE video.
On his side D. GROS can watch Hervé HEULLY's 3D office.
Both can in addtion, and optionally listen to provate messages.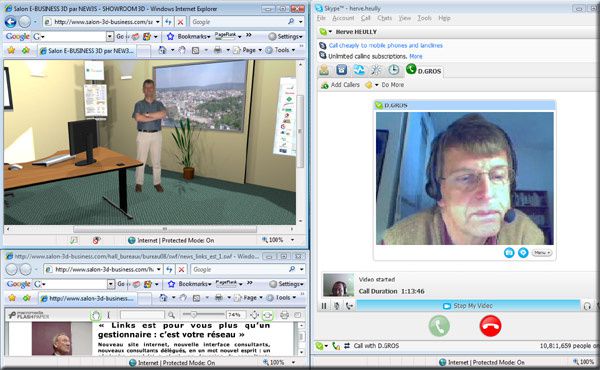 Dominique GROS starts to share some information stored on the panels... Information is commented in real time.
Then Dominique GROS invites his contact to read some more information.
As Hervé HEULLY has a walk into the 3D office of D. GROS, he hears additional warning/marketing/advise voice sounds.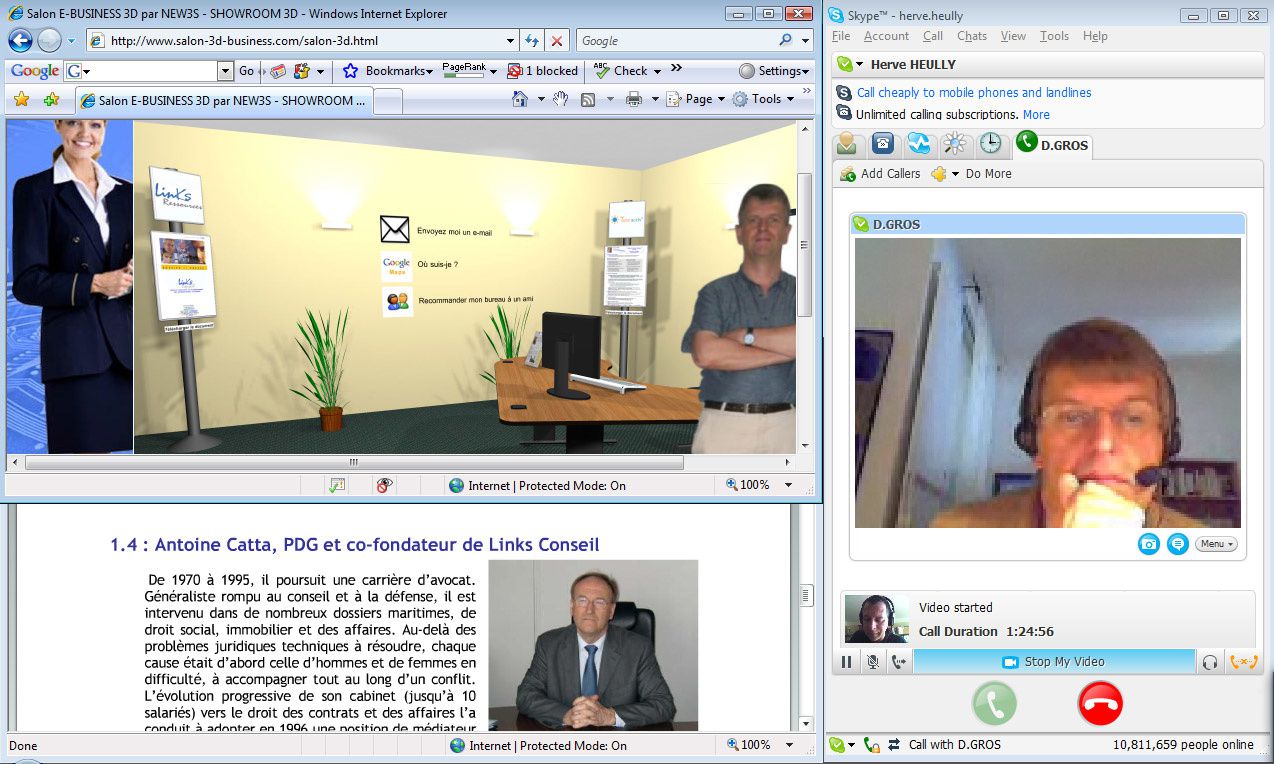 15 minutes later, both interlocutors write down a short resume and proceed to several actions...
Virtual 3D visio-conference is ended. All issues have been solved on bith sides.

The 3D virtual business meeting has been a real success for both interlocutors. They just experienced with great success a real 3D immersive real time experience : sharing ressources, discovering efficient ways to meet, to go further, and remember what has been said, written, heard, and demonstrated.

Once again!

D. GROS - LINKS CONSEIL - and Hervé HEULLY - NEW3S meet weekly through their respective 3D office, whatever is their individual location on earth. It's now an ongoing and free way to proceed.

3D TRADE CENTER has dramatically improved their way to do Business. Since they started, both have been fully impressed by the efficiency of this new System and cutting edge method.